---
Deadly Actions II (Lille, France): 1995
I saw In Slaughter Natives this weekend, on the Deadly Actions II festival near Lille in France. ISN was excellent. They played all the good tracks from the 1st, 2nd and 4th album. Havukainen was assisted by 3 others (I think.. it was a bit unclear with all the smoke). During the first song there was an extra singer, he headbanged a lot and did some screaming. After the song he stage-dived into the audience. Very strange. I don't know who this guy was (he had a lot of hair, long and curly. maybe this helps someone identify). The singer/grunter spewed fire several times in the last song, which made some people jump away at first :) It looked pretty cool. He held out the torch like he was conjuring up evil spirits or something. There also was a film screen in the back on which they showed movie excerpts, and some images of Havukainen. An inverted cross was cut out of the projected image the whole time.
Other bands at the festival were Stigma, Contrastate, Dive, Endura, Predominance, Dagda Mor, Con-Dom. Except for Dive, I liked all performances. Especially Stigma, Constrate and Predominace were very good. Endura performed some sort of ritual during the show. Chris/Frater XIII was wearing a hooded robe and recited from a book in front of him on a desk. On a table next to him, he had some attributes like a wand, a knife and a chalice (with blood? real?). The other member made all the music, one long piece for 1 hour or so. I would have liked to hear more songs from the album, now there were only bits and pieces to be recognized. Like most bands they also used the backdrop to project film and slides. They showed a variety of violence, atrocities, rituals and hardcore porn.
The festival was 2 days and about 150 people showed up, each day. I spoke to one of the organizers, he told me he had to pay about $500 out of his own pocket to finance it, just like the year before. I don't know if this was for both days or just one. He was really amazed when I told him I found out about the festival through internet. I think he was very flattered :) There were also some distributors and label folks, who sold their CD's at little stalls. Just about any musical item one could wish for was there. I allowed myself only to buy one CD because the two days in Lille and the entrance fee had cost me enough already. And I had to keep some money for a metal-market in Holland the day after the festival :)
October 10, 1995
BOB WITLOX, the Netherlands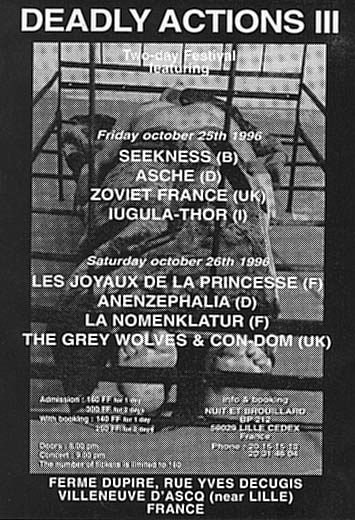 Deadly Actions III.
The location was the same as last year and I guess the same amount of people showed up. The venue was well filled, probably sold out (180 tickets). The number of distributors and label people selling their CD's and tapes was a bit disappointing. I had hoped to find more people from different labels there.
Seekness would open up the festival, but unfortunately they weren't able to come due to some technical or whatever problems. So the show started with Asche. They gave a really strange and varied performance. For the first part they had a thin white screen in front of the stage on which they projected a video with colorful, blurry images from inside someone's body it seemed, mixed with filmed, distorted images from what was going on behind the screen and silhouettes of people on stage. The music was pretty ambient at this stage, with rumbling and low drones. Then one of the members came from behind the screen at the side of the stage, facing the audience and started to give a frantic statement, all in German. Something about war and the end of times, I believe. Very impressive. Then a fire cracker which was attached to the white screen, blew a hole in it and the screen was torn down. It turned out there were about 6 people on stage. Somehow I had imagined that Asche would be a duo or three-piece. The music moved between tribal drumming to hard ambient/noise. Near the end there was also a strange scene of the members popping open champagne bottles and being very cheerful, embracing each other and such. At first I thought they were celebrating the successful performance. But the show wasn't over. They continued with "Move!" from their "Non Apocalypse" CD, with two members urging the audience to 'move' and one of them wandered through the crowd as well.
Next up was Zoviet-France. I had seen them before, but this show would turn out to be much better. The first 15 minutes or so didn't really catch on to me, but then suddenly I was captured. The front rows of people were sitting down, including me. And with my eyes closed, the music was amazing to hear. The two members were sitting down on stage in front of their equipment and each had a microphone that they used to pick up sounds they made with bells, flutes and other small objects.
Iugula-Thor was the last band of the the first night. They consisted of two guys, one was making all the noises on his guitar mostly and the other one was screaming in a microphone. Early on we decided that this wasn't what we wanted to see, so we went outside.
The second day there seemed to be more people than the day before. I wondered if this was because a lot of people couldn't make it on Friday because of work or something or because they had come especially for some band. Maybe for Les Joyaux De La Princesse who started off the 2nd day. They're a French band that play some sort of atmospheric music with a ambient/industrial touch. Their appearance was quite militaristic. They showed a documentary about WWII and death camps on the backdrop video screen. And they were the only band that had decorated the stage. On either side they had placed tall black banners with symbols and letters in white. All the instruments and objects on stage were covered in white sheets, which made the stage look like a place where a ceremony was to be held. Two members of the band played on drums in some parts and a female member read from a scripture or something in French. I think the music was kinda similar to Blood Axis, but less classical and bombastic, more dark and ambient. It sounded pretty good, but not something I go wild about. There was one strange thing about Les Joyaux, they had one guy standing still in the back of the stage during the whole show, so I wondered why he was there. Then during the last song he came out to the front and started to play a large military war-drum. It seemed a bit odd to be on stage just for that sort performance.
Next was Anenzaphalia, a band I had high hopes for, because I had heard great things about them. They turned out a bit different though than how I had imagined them. But certainly not a disappointment. I thought they would be very ambient, but it was much harsher and harder than that. I noticed Klaus from Tesco was one of the members. He took care of the machinery and such. While the other member used his voice. The music was some sort of power electronics / death industrial. Like going through torment and pain. Eventhough I liked the vocals, especially with my eyes closed when I could sort of detached them from being sung/screamed and focus on the sounds, the best part of the show was when they let only the grinding sounds do the work for a while. Quite ecstatic. This was the best performance of the festival for me. Judging from the crowd's enthusiastic reaction, most people seemed to think so too.
Then came a collaboration of Con-Dom and The Grey Wolves. This was the performance I exspected least from. I had seen Con-Dom before twice and I didn't like it one bit then. The noise had been so unbearable, I had fled outside to experience it as a more distant, smoothing ambient sound :) But this time, it turned out great. It was still a total noise attack, but there was also variation and somehow I enjoyed it quite a lot. The two guys of Con-Dom and The Grey Wolves took turns in shouting in their mikes. And the background video was cool as well. It was a kind of documentary film on methods of execution, neatly divided into sections about hanging, beheading, shooting, etc. :)
Last band of the festival was La Nomenklatur. I had high hopes for this one as well, because I had read it was some legendary band. It turned out to be very percussive music by three guys, both on conventional drums and on all kinds of objects and materials. One member also screamed in a microphone. I didn't really like this band, although it wasn't all bad, just not very exciting to me. So we called it an 'early' night and left at about 3am. Back to the motel. With Asche, Zoviet-France and Anenzaphalia being the highlights of the festival, it was certainly a great experience again and well worth it.
BOB WITLOX, the Netherlands for Achtung Baby!.
---
Send mail to alien@ic.ru with questions or comments about this web site.
Copyright © 1997 Achtung Baby!
Last modified: Март 31, 1998