---
š

DESCENT:

I GO AND HELL FOLLOWS ME
---
One more beautiful publishing, which I should like to recommend, particularly to those interested in extreme and ultra-radical forms of manifestations of creative ideology and individualism - an english-american publishing project Descent, that aside from the printed organ includes a small Ajna label, created and existed earlier or enclosed in the infrastructure of the project later (this stays not at all understandable), that already released in formats of albums, singles and CD's, amongst the others, works of swedish musician Mortiis ("Keiser:") and a row of occult-black-metal musicians; the last opening of Ajna and Descent - is a project named Placid with a ready-to-be-released-soon second work of this american darkwave group. Somewhere in the background of Descent the cult british metal-label Misanthropy could be seen - the home of scandinavian chieftains of the true black metal - Burzum - in relations, also staying under the cover of deep secret, however for a long time seriously influencing the policy and aesthetics of the most magazine. In all four issues of the magazine that had seen the light of the day the extreme manifestations of metal formed highly observable, unless prior part of Descent contents. My first acquaintanceship with the journal on pages of numerous of representative catalogues, mail-orders and recommendation lists has begun with the aforementioned "iron-concrete" themes and then finally fell into the scope of interests of Achtung Baby! exactly due to the last issue, yet not widely registered in last recommended novelties, with a changed policy of Descent, which unexpectedly (after timid attempts of "teasing" with Blood Axis, Trial Of The Bow, Smell & Quim, Brighter Death Now, Death In June, Sol Invictus, Charles Manson and other materials) had done an observable turn into the sphere of power electronics, death ambient, noise industrial and occult-gothic-ritual music. Thereby, continuing to follow the earlier elected course on radical extreme underground music, the fourth issue presents a variety of such surprises and, what's important, not archive-nostalgic, but ones that during last years fairly cause upgrowing excitement and active interest on both sides of Atlantic. Their names are - Ain Soph, Atrax Morgue, Sshe Retina Stimulants, KDNR (Italy), The Moon Lay Hidden Beneath A Cloud (Austria), The Grey Wolves, Sutcliffe Jugend, Con-Dom (Great britain), Allegory Chapel Ltd. (USA), also labels, pretending nowadays on the worthy place in the world of the most strong - L.O.K.I. Foundation and Tesco (Germany), Old Europa Cafe (Italy). It would be fair to note that some from the brought names are known in the world of underground for many years (the last year Old Europa Cafe has celebrated the 13-th anniversary of its musical activity of the active propaganda of the best individual sound experiences from the whole world), however the inaccessibility of any information on them still stays actual. Descent not only draws near their works to us, but in sufficiently interesting spectrum of questions helps us to reveal for ourselves deeper, what's highly important, the individuality, spectrum of interests and ideology of sound vision of each performer or label. "Live" reviews in the issue are represented with Kadmon's report from Laibach show in Ljubljana, Yugoslavia, with the Slovenian National Orchestra. On the politics, sound fanatism, control, reaction, evolution and Lawrence the Arabian speculates Mike Dando (Con-Dom), on psychopathies, love and hate, death, violence and pathology - Marco Corbelli (Atrax Morgue/Slaughter Productions), psycho-sexual sound manipulations, technological and visual totems of post-industrial society - Paolo Bandera (Sshe Retina Stimulants), necro-sadism - Kevin Tomkins (Sutcliffe Jugend), satanism, symbolism and sound as a weapon - Elden M. (Allegory Chapel Ltd.), apocalyptic rituals of the past and present - Albin Julius and Alzbeth (The Moon Lay Hidden Beneath A Cloud), cultural terrorism - The Grey Wolves. Another material, to which we wanted to attract your attention - is a detailed interview with famous english underground artist, now living in Japan, who became well-known with his shocking pictures for legendary Whitehouse covers, illustrations to Answer Me! and to the last american publishing of Nietzsche's "Anti-Christian", either as with more recent works in the genre of child sado-masochism, Trevor Brown. The polygraphic quality/design of the magazine deserves high evaluation - beautiful desing and rich illustrations. As usual, the issue is complemented with the extensive review of the new releases and cognate in the themes magazines and contact address list. Aside from the good row of materials given in the issue and interesting interviews by the Descent editors Stephen O'Malley and Tyler Davis, we specifically want to thank them for the excellent issue cover, that burned out our imagination, and we want to wish the further successful "turn" into the area of radically-innovative experimental terrorism on the threshold of Millennium. Wasail!
DESCENT MAGAZINE (#4, October 15, 1997, England-USA)
CONTACT: DESCENT/AJNA, P.O. BOX 11741, Olympia, WA 98502 USA
---
PUBLISHER: THE AJNA OFFENSIVE
PRESSING: 3500
PAGES: 64
PLUS FIVE COLOUR COVER
STORY: DESCENT WAS BORN IN MID 1993, THE FIRST ISSUE RELEASED IN SPRING 1994. THE MAGAZINE HAS GROWN INTO ONE OF THE MOST RESPECTED EXTREME MUSIC MAGAZINES FROM AMERICA, WITH IN DEPTH AND COMPREHENSIVE INTERVIEWS OF SOME OF THE MOST INTERESTING CULT ARTISTS, ALONG WITH AN EXTENSIVE REVIEW OF THE MODERN AUDIAL AND PRINT RELEASES. DESCENT IS NOT LIMITED TO ONE STYLE OF MUSIC, BUT RATHER THE ENTIRE SPECTRUM(S) OF EXPERIMENTAL, EXTREME METAL, INDUSTRIAL, ELECTRONIC, AND GENERALLY DARKER MUSIC. ALTHOUGH NOT THE MOST PROLIFIC MAGAZINE TO BE RELEASED, EACH ISSUE HAS EVEN A COMPLETE LANDMARK OF THE UNUSUAL MUSIC AND ARTISTS FEATURED. DURING THE HISTORY OF DESCENT WE'VE FEATURED THE FOLLOWING BANDS AND ARTISTS: BEYOND DAWN, IN THE WOODS..., BURZUM, MANES, EMPEROR, SIGH, HADES, BATHORY, DARK THRONE, SATYRYóON, ENSLAVED, FLEURETY, ULVER, GEHENNA, VED BUENS ENDE, MONUMENTUM, DEATH IN JUNE, SOL INVICTUS, TAINT, BLOOD AXIS, SMELL & QUIM, ABRUPTUM, CON-DOM, THE GREY WOLVES, SSHE RETINA STIMULANTS, GORGOROTH, TORMENTOR, AIN SOPH, LAIBACH, DARKSTYLE, THE MOON LAY HIDDEN BENEATH A CLOUD, SUTCLIFFE JUGEND, CHARLES MANSON, TANIA STEINE, TREVOR BROWN... AND MANY, MANY OTHERS. DISTRIBUTION: WORLDWIDE THROUGH DOZENS OF MAILORDER COMPANIES, TOWER, UBIQUITY, RELAPSE, AND FINE PRINT IN THE UNITED STATES, HUNDREDS OF SHOPS/NEWSSTANDS ETC.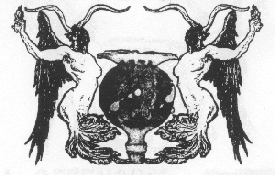 ---
Igor Vaganov
other information about Descent mag.
---
Send mail to alien@ic.ru with questions or comments about this web site.
Achtung Baby! contact: igo@donpan.rnd.su
Copyright ¿ 1997 Achtung Baby!
Last modified: íÁÒÔ 31, 1998