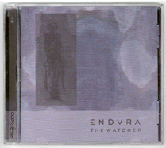 ENDURA
"THE WATCHER" (OLD EUROPA CAFE)
British duet ENDURA is justly considered to be one of the most nowadays interesting electronic project,and during six years their sound ideology includes dark occult rituals and mysticism of ancient religions of Cabbala and,astral metaphysic,magic and omens,owing to Stephen Pennick and Christopher Walton,who,using samples,keys and computers, create this gloomy magical monuments,appealing to the depths of your psychicas to Pandemonium,where-between Dark and Light-is regenerated the Shadow of sacral gods.This is music of silence,those had ruled the world numerous times before of appearing of any alive,when dead,devastated and bloodless sound sphere is presented as deep philosophical magnificent ode.
And the album " The Watcher" is so: paranoid spherical dark winding round
abysses,minimalism of rebellious overtures and contemplation of fortune.New
work,representing one eternally-long track,entirely absorbs into tender hands of sleep and dreams."Sleep is a little black strips of dearth"-remarked Oscar
Wild.Thus the musicians stretch invisible bond to the up to the manically loved theme of Dearth,investigating it on the depressingly-physiological and mental levels.
Eternally spread sound landscape,latently pulsating in the foggy depth,-as
anatomy theatre ,with heart and arterial pulsation,lightly restrained
reverberations,increasing and simultaneously decreasing on sound
boom,magnetism of infro-structures-remaining by hole inner nature hospitable
bunk -last minutes before the final agony of brain and body.In
the pile-grin inside light,,oppressing monotony unexpectedly remains the
graphics of Edward Munk,being played with the psychically-depressed dramatic realities of being.In amor fati.
IGOR VAGANOV
CONTACT:CHRISTOPHER WALTON,48 WOOD LANE,FERRYHILL
COUNTY
DURHAM,DL17 8OC,ENGLAND
http://www.stack.nl/~bobw/music/artists/endura
OLD EUROPA CAFE A.V.S.-V.le MARCONI 38-33170 PORDENONE-ITALY