---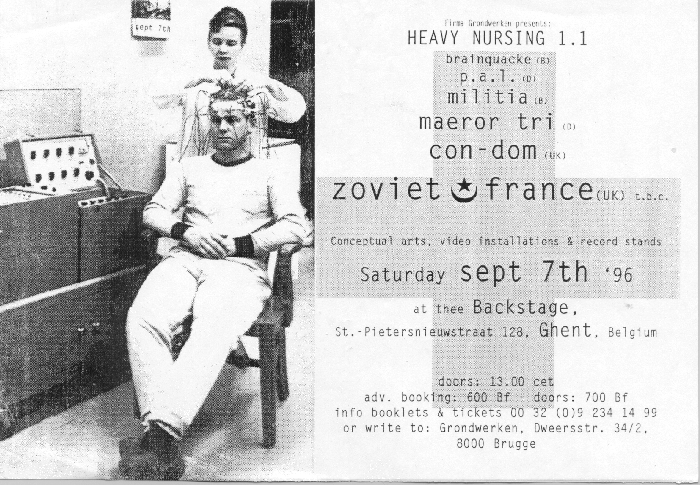 Heavy Nursing 1.1, Belgium, Ghent
This concert was great! The line-up was: Militia, Maeror Tri, Con-Dom, :sophie&franz: (a.k.a. :zoviet*france:). The concert was called Heavy Nursing 1.1 and it was in Ghent, Belgium. I don't like Con-Dom, but the others were really great! Especially Militia and Maeror Tri. Militia are a five (or so) piece from Belgium and they play hard rhythmic industrial, not very harsh, but powerful and energetic. Very physical too. They used empty oil barrels, gas-tanks and other metal materials for the percussion, along with some sounds from electronic equipment, like samples, orchestration and rumbling noises. I bought their 3LP "New European Order" shortly after the gig, when I went to Staalplaat to pick up your tapes (or planned to!). That 3LP release is fantastic I think!! It has become a favourite.
Maeror Tri was also amazing. Three guys sitting down on the stage with each a guitar to create the sound. Long swirling drones kinda like on their "Myein" CD. They also used some metal objects with contact mikes. There were about 50 people at the gig I guess and there were also labels and distributors to sell CD's and cassettes, like Nuit & Brouillard, Tesco and L.O.K.I.
Bob WITLOX, Holland, 7 September 1996 special for A/B!
---
Send mail to alien@ic.ru with questions or comments about this web site.
Copyright © 1997 Achtung Baby!
Last modified: Март 31, 1998