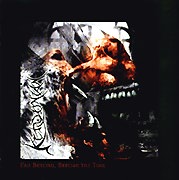 KEROVNIAN "FAR BEYONG ,BEFORE THE TIME(Cold Spring)
Do you want to know how breathes before Millenium british label Cold Spring,how lives.Head of CS,Justin mor then half year was intrigating everyne by personal secret discovery from ex-Yugoslavia.Buzzzz were lashed by news about the conclusion the contract on five albums.Thus long-awaited debut of cold mysterious gay in black with valint kitchen axe invert star on breast-extreme embodiment of ultra-lowfrequent-black ambient-twilight and gloom,alone aesthetically,renounced female voice,ancient magic,ndividualism and myphology,correlation of strange berfore unknown accords and alchemistry of the Persian and the ancient Greece languages-language of the project of Vlad Kerovnian.
The planet s swallowed up at present by strange and incomprehensible rites.If it's truth that all our words,emotions,feelings,actions have been ciphering by pieces of cosmic energy in eternal memory of universe during many years ,why it can't return back?And why the signs have ti be brought only from the heaven-so,if paradise exists,there is space for hell also.And it is obvious that this signs come back to us through the sound.Thus contemporary composers are modern alchemists and belonging to them electronics is a decoder of historical fragments:not of Earth's history but of eternal rebellious souls.That's why Kerovnian's creative activity also,amply decorated by fragments of universal drama,seems for me to be a more considerable than next bank of memory called CD.
"WHERE DO WINDS DIE?THEIR SAD GROANS SPREAD LIKE ECHO ,CARRYING TO US-THE WIND HAS JUST DIED.ALONE.AND NOBODY COULD HEAR HIS LAST SONG..."
Unexpected and poetically beautiful sound debute.Who said that darkness is of one colour everywhere?The album-confession is not enough to confirm it surely.And we have to hear the moan of wind.And to wait...
Igor Vaganov
CONTACT:via      Cold Spring Records.