KUTNA HORA - SEDLEC - KOSTNICE... (short historical info)
... One day I went to this amazing place, the ossuary in Kutna Hora, in Czecho, a small town one hour outside Prague. In a grave-yard there, they have this small chapel with an amazing ossuary (= bone house, or Kostnice in the Czech language). Inside where fantastic decorations and ritual ornamentations, and everything was made out of skulls and bones. The best thing was the chandelier, which you could see on the post card here.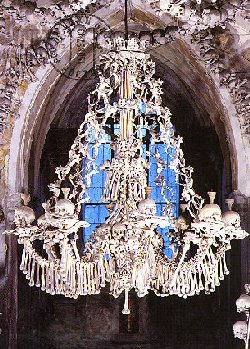 Actually it was Albin Julius who recommended me to go there. The cover picture for The Moon Lay Hidden Beneath A Cloud's "A New Soldier..." was taken here, and Albin & Elisabeth also recorded the "Kostnice" single here, just to get the right atmosphere.
From what I heard, all the skulls and bones come from people who died of The Black Death, 1348-49. There's supposed to be around 50.000 bones in the ossuary. There's some info on the ticket I got when I payed to get in there (yeah, it is commercialized). It says: "The unique decorations of the interior from 1870 speaks to us about substance and sense of the human life. An originally gothic building from the end of the 14th century was a cemetary chapel of the Cistercian monastery. Today's appearance was acquired through the baroque adaption by J. Santini at the start of the 18th century". That's it! The Czech surrealistic film maker Jan Svankmajer has made a short movie called 'Kostnice' about this building, although I haven't seen it myself.
Persona Non Grata (Marten SAHLEN) Wed, 17 September 1997
stnice and pics - http://www.well.com/user/prague/pampkost.html