STAHLWERK9
"Oradour"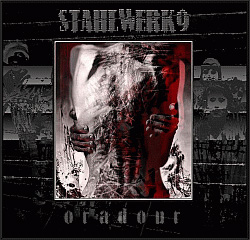 Track Listing:
1. Complainte du Partisan (Oradour I)
2. La mort est allemande
3. La marche sanglante
4. Le massacre (Oradour II)
5. Le chant de la liberation
6. La cloche d'oradour
7. Morts pour la France (Oradour III)
8. A la memoire de notres pauvres petits martyrs
9. Souviens-toi
10. La victoire
Release Notes:
Label: Achtung Baby!
Catalog # : ABCD004
Format : Digipack-CD
Release Date : Summer 2002
German mysterious project Stahlwerk 9 is well known from the track on the DoCD Compilation "Ten Years of Madness...". written and recorded in the period of 1999/2002, 'Oradour' is long awaited fantastic debut from the band and quite recommended industrial sound in the way of Dagda Mor, Les Joyaux de la Princesse, Nocturne, Der Blutharsch, Turbund Sturmwerk and Wappenbund etc. Heroic dark noise, industrial loops, war samples and pulsating ritual atmospheres.
Вы можете перевести этот текст на любой язык. Нажмите белую кнопку внизу страницы.
You can translate this text on any language. Press the white button in the bottom of page.
Vous pouvez traduire ce texte sur n'importe quelle langue. Appuyez sur le bouton blanc dans le fond de page.
Sie konnen diesen Text auf jeder Sprache ubersetzen. Drucken Sie den wei?en Knopf im Fu? der Seite.
Potete tradurre questo testo su tutta la lingua. Premi il tasto bianco nella parte inferiore della pagina.
© 1998-2008 Achtung Baby!