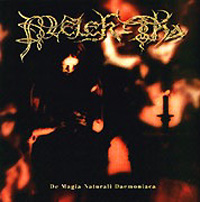 MELEK-THA "DI MAGIA NATURALE DAEMONICA"(Cold Spring)
As it's clear from headline we stands to the evil in appearence of two french gentlemen Lod Evil and Cyberg with the sign of gloomy accult rites,satanism,magic and samples.During 70 minutes we are represented to exciting radio/soundtrack,sometimes remaining new adventures of Batman in the role of Nostradamus before Millenium on the pages of "Damien" with the taste of thrillers "Seven","Prophecy" and last Carter's groan "X-Files".So.it seems to me that the laurels of the last master of triumphing X-prophecyes in masscult disturb Lord Evil,hence and mixed pseudo-medieval-choral-orchestral horror on Latin of second album of Melek-Tha.Gloomy,depressive sad-decadence-romantic surpressive.But not more.If brutality was smaller ,intellect and imagination-the bigger,"De magia" could be accepted as wishy-woshy The Moon Lay HIdden...Plead quilty,I didn't hear their previous album,that's why i can't compare progress of group.In the recent interview the musitians've owned that their music is a reflection of extreme image of sacral life between dearth and war,that they are atheists but consider philosophy of satanism the greatest weapon vs degradating world's religions,that they don't support ideas of New World Order and dogma of neo-nazism and total assimilation of different cultures,moreover,"hate music" of the new album was inspired by forces of evil and atmosphere of madness and darkness.And it's not complicated to prove it.But nevertheless it's hard to take selfcare and not to be affraid.Worthy substitution for DARK Millenium it's ready to come intime.Terribly,verrrry awfuuully!!!!!!!Welcome to the apocalyptic necrophilia.
P.S.Now we know which end of God's day prepares Justin Mitchell.
Igor Vaganov
CONTACT:Melek-Tha,Lord Evil 31 RUE de Longpre-,62152 Nesles-France
http://altern.org/promenade/NF/Evil%20Omen/