---
1st Congresso Post Industriale Italiano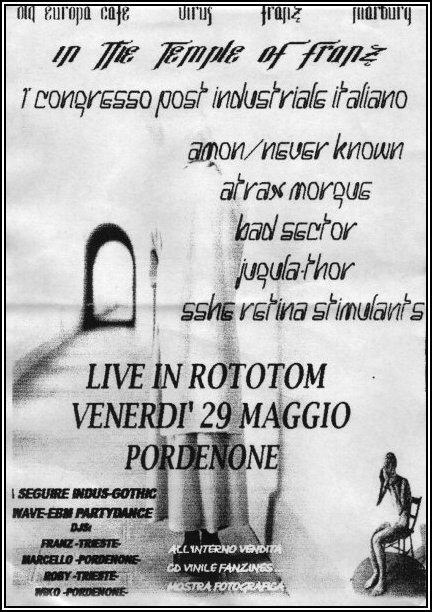 The long awaited symposium organized by Old Europa Cafh (oec@iol.it) has finally took place. Paolo Bandera and me leave Milan on Friday morning, together with my new friend Emilio... A very fast travel with aquaplaning risk in certain points seen that someone in the sky seems in the mood to drown Italy under the rain. Arrived there we find Massimo of BAD SECTOR, I've recognized him at first sight and we start speaking. The poor man had to drive (sail) along the way all alone. The ROTOTOM is wonderful. It looks like a Tinto Brass' Bordello with a big PIE shape, maybe too big for the event, but wonderful. The stage is big enough to put all our equipment on it without creating problems to anyone. The guys of the service look at us very weird trying to figure out which kind of instruments and what the hell we are supposed to play. They start to understand that something weird is going to happen when Massimo of BAD SECTOR put his generators on stage... We do the sound check, god, the sound is perfect, powerful, violent... It's really rare to play with such big PA. The sound is even better than in Astoria with the Neubaten. Slowly some people starts to arrive, Devis G. (LUNUS/TEATRO SATANICO), who's going to be my companion for most of the evening and of course the almighty Rodolfo of OLD EUROPA CAFE', a guide for all of us , tape producers, and organizer of the event with the guys of VIRUS promotion. In around one hour also Marco Corbelli (ATRAX MORGUE) in new look and Andrea of AMON/NEVER KNOWN arrives with all the Milan friends, enclosed Moreno of MURDER CORPORATION and the guys form FLUXUS. There I know my video trader Marcello Russo, really funny guy with RED BRIGADES t-shirt and his nice girlfriend. Time for a big lunch in a restaurant where also Andrea of IUGULA-THOR arrives directly form Milan where he will have to get back after the show...
The meal is great fun, with cheers and revival of good old 70's music ,like the GIANTS and the (now reformed) cult VILLAGE PEOPLE... That's trash... We go back at the show and very few cars are out of the place... well a couple of considerations. Pordenone is not a very comfortable to arrive, but it is reached normally by the train. There have been advertising everywhere, but on the same night there are two other big gothic parties in the area and in Treffen is nearly to start the big festival most of our German friends will have probably gone.
Result: around 120 payers, 150 persons in total, in a very BIG place. I think 150/200 persons is the maximum of Italy's shows of this kind of stuff (see WHITEHOUSE, NON, etc.) So from my point of view it was Ok, but I don't think the organizers think the same.
Anyway the show is great!
SSHE RETINA STIMULANTS opens the show with a 30 min long show. Visuals and sound in his way. Cold, machine laments, high cold pitch which burns hears and thoughts. Paolo Bandera knows how to handle with any single feedback coming out form his equipment... great... This is power...
BAD SECTOR follows... all those of you who read this newsletter know how much I love this project... One of the few who I listen to reach higher sensations, different from the usual anger full stuff I'm mostly oriented ... the real industrial music, music coming from machines... Equipment that seems to have a soul... Massimo give them life with magick touch... Like Micky Mouse in fantasi... things seems to start moving...
The P.A. is perfect for this performance... The wall of sound crash us, but don't let us fall on the floor... Please give me an hand! I want to put my feet on the ground!
AMON/NEVER KNOWN follows with a set in his typical style. I feel like drowning in a swamp near by some ancient Mayan pyramid. The only problem with this show is the use of fractal/acid videos, which has nothing to do with the catacomb like atmosphere that Andrea is good to build.
It's time for ATRAX MORGUE... Well, what to say, this has been my fave show of the evening... Marco performs the MORDER MACHINE stuff (wait next pengo), his own vision of the BRIGHTER DEATH NOW sound with the sick taste typical of our Italian death industrial/power electronic hero. Violent and obsessive backtrack, a really tortured voice. Marco is walking on stage like nothing is happening transmitting lots of tension, especially while watching people behind his red glasses. Oh God! I hope to see him live again soon! This is the real thing!
Marco you are god!
It's our turn. As you've read I've been asked to join IUGULA-THOR after Andrea Cernotto (THE SODALITY) was busy for job for this week end. Seen that things went well IUGULA THOR line up will be from now own four persons. Beside IUGULA-THOR founder member ANDREA , and his long time collaborator Paolo Bandera, there will be me on double voice and tapes, and Andrea Cernotto on synth. I'm very curios to see what's going to happen next time. Anyway the show was composed by 8 tracks. I don't remember very much seen that while on stage I wasn't able to listen very much what was going on. No speakers near to me, but everyone said things worked pretty well. Andrea, the real DUKE OF EXCITEMENT get on stage dressed in leather and the quiet guy who was eating with us few hours before turn berserk on stage, move himself in a weird way... What a pity near the stage there's no one... This fucking light burn my face, I hate it, their could be no one in the room or thousands or person... I can't understand it... Who cares? Let's burn everything down! I love it... It end like it started... But I'm very satisfied... and the light near by me made my skin hurt like if I had been laying down on a Caribbean beach... That's part of the game...
At the end of the evening I'm able to speak with lots of people and the fun is great... unluckily Andrea has to leave soon... it will be for the next time...
Great thing is that john Duncan was at the show, and other "important people" were there as well and it has been an excellent occasion to know people I've been in touch by mail for years...
I hope this won't be the last show like this we'll see in Italy,. Thanks to Rodolfo for being a real gentleman and giving such great treatment! Glory Halleluja! We're grateful to you and the guys who hosted us!
Marco Deplano (Soffitta Macabra, ITALY)
---
Send mail to alien@ic.ru with questions or comments about this web site.
Achtung Baby! contact: igo@donpan.rnd.su
Copyright ¿ 1997 Achtung Baby!
Last modified: á×ÇÕÓÔ 12, 1998