---
One Song, Seven Thousand Yen
Tokyo Scene Report
by Michael Hartman
(Gentle Giant Records, TV Pow, Liminal)
In the fall of 1994 I moved to Tokyo almost on a whim. At that time, I knew about a lot of things imported from Japan (Shogun Warriors, Anime, tiny cars) but I didn't really know that much about Japan or Japanese culture. I couldn't name three Japanese foods and the majority of the language I knew came from a Styx song. I wound up staying 8 months. During that time I discovered what an incredible place Tokyo is and encountered a stimulating and diverse music community that only a city like Tokyo could foster a music community as spastic and outrageous as the city that created it.
I've traveled to Tokyo three more times to work, play music and hang out. Each trip proved to be more enlightening than the previous. I've eaten every kind of Japanese food I can find and even learned a bit of the language. My most recent trip was in the spring of 1997, this time, with the help of many people, I organized a music festival and was able to play several shows with friends and in my own bands, TV Pow and liminal. I tried to keep notes. This is what I can remember about the shows and bands I saw.

03/08/97
Kairen no Yoru 2: Government Alpha, K2, Incapacitants, Barrel Organ, Crack Steel, Building of Gel, Xome, Crack Fierce, Kazumoto Endo, and TV Pow;
Anti-Knock, Shinjuku

Kairen no Yoru translates into something like " night of convulsions, " I think, which is an excellent moniker for an evening of noise music. Kazumoto Endo (ex-Killer Bug) organizes and promotes the all night event at one of Shinjuku's more punk clubs. The punkness of the club became obvious to us as when we arrived around 11:00 pm we were met by herds of spiked headed, checkered paints wearin' youngins on their way home from the early show.
That night, a rather eclectic collection of Tokyo area noisers, young and old, gathered for the festivities. The crowd consisted mostly of the musicians playing, the people that date them, and a German film crew that was very interested in the Incapacitants (lots of nostril shots). The feeling was good. Everyone was trading tapes and 7"s, hanging out, drinking beer and getting all excited about noize. It was interesting to see the ways in which each artist or group tried to be creative and unique within the medium. There were tons of varieties of effects racks and pedals, radios, samplers, turntables, oscillators, etc. Many artists hand crafted a sound source by modifying microphones or attaching a contact pick-up to something like a metal trash can, putting something in it and rattling it around (that was Crack Fierce). That evening it became more than apparent to me that there is a thriving and enthusiastic noise community in the Tokyo area that stretches far beyond the few bigger "name" acts we hear about in the states.
"life izu life. I labu life"
03/13/97
DMBQ, Melt-Banana, Buffalo Daughter, Shonen Knife;
Liquid Room, Shinjuku

I have a 7" by DMBQ that's not bad so I was curious to see them live. My girlfriend, Junko, loves this band. She thinks they're entertaining.We don't agree on
everything. It took but one or two songs to realize that DMBQ did a lot of jumping, running, flailing, posing and stripping in an attempt to energize music that was basically hot lick embellished blues rock. When the singer whipped out his cock it all came rushing back to me, I had seen them once before on a previous trip but didn't remember their name. "Oh yeah the penis band."

Melt-Banana was next, maybe you've heard of them. I've seen them many times in the states and Tokyo and they always blow me away. Although their recordings are great, they don't compare to the energy of their live shows, you must see them perform to feel their true power. One of the things that I really like about them, besides being four of the nicest people I've met, is that, although their sound is purposeful and definite, they like to push themselves musically and have the ability to adapt to a variety of situations. For example, they can occasionally be seen improvising with Masami Akita of Merzbow in the appropriately named collective MerzBanana. Shortly after I left Japan they led a group of hardcore and noise musicians in a performance of John Zorn's Cobra (sorry I missed that one) and of ten pair up with members of other bands at the end of a show for improvised mayhem ( a not so uncommon occurrence in Tokyo). Melt-Banana is a band that truly helps to define the Tokyo sound and if you haven't checked them out, you really should.

I must say that I was pleasantly surprised by Buffalo Daughter groovy electro-rock. Maybe there are some people that really like this band. They've since released an album on Grand Royal. I'm sorry, but I don't like Shonen Knife. Crappy-happy-poopy pop. Go away. The lobby was nice and we had fun watching people they're so stylish.
03/14/97
Death File, Discordance Axis, Hellchild;
The Loft, Nishi-Shinjuku

Come to find out Junko and I weren't even on the guest list but we must have confused the guy running the door because we got in free anyway. When we walked in Death File was already playing and to be honest, I don't really remember them that well. The best description I can muster is metal/hardcore. I know it's not much.

Next was Discordance Axis on tour from the states. Three words: short, tight, bloody. Did I say fast? Hellchild are the macho punk hardcore kings of Tokyo. The singer is a muscular elf guy with the one of the best death metal growls I've ever heard. Every time they flexed and rocked I couldn't help but chuckle. Good hardcore makes me do that.

The Japanese take their hardcore seriously, and after the evening's events I was convinced that metal is still kicking ass all over Japan.

03/20/97
Move Baba vol 2;
Imai Kazuo, Ikeno Kozou & Tsunoda Tsuguto, Cherry Straw, and TV Pow;
Theater Poo, Shinjuku
Theater Poo is a cozy little club somewhere on the 3rd floor of Shinjuku. It is an excellent place for improvisation and experimentation as it has a small, but decent stage and sound system and unlike most venues in Tok yo there's no, or not much of, a fee for using the facility. This is important because the cost of renting a live house can be substantial and often creates a pay-to-play situation for too many musicians in Tokyo.

Tsunoda Tsuguto and Ikeno Kozou played a set of improvised music on midi-guitar and effected trumpet. Tsunoda, who has been Otomo Yoshhiide's turntable for some time, recently started using a fairly unique set-up, especially for improvised music. He now specializes in midi-guitar (a system of midi-controller and sampler triggered by an electric guitar) Along with all the regular guitar stuff he has a host of loops, voices, quirks, jabs, and crashes at his disposal. His guitar through the amplifier and Ikeno's trumpet provided a roomy reference point for all the sampled and effected sounds pouring through the house speakers.

Cherry Straw is typically a one-man project headed up by Abe Miki who is a fine example of a musician with no inhibitions. Before, I had seen him perform playing bass guitar and singing while using a crappy tape recorder for a back up band, ingeniously junky. Tonight he kept us all smiling with his ukulele and falsetto singing, it was cute.

TV Pow played next and we had fun exploring the upper and lower frequency capabilities of the house system. It was one of two shows with all 3 members (Brent Gutzeit, Todd Carter, and myself\_the rest of the shows were just Brent and me) plus on this special night our Irish Baptist friend Tom Deater joined us on guitar.

Imai Kazuo did a solo performance on acoustic guitar that was mild and soothing. It's too bad that as the listeners began drifting into a perfectly relaxed state a group of drunken English teachers burst into the club looking for even more beer.

03/22/97
Exquisite and Difficult Music Festival Day 1;
Boris, Otani Yasuhiro, Akiyama/Sugimoto, C.C.C.C., liminal, Otomo Yoshihide/Uchihashi Kazuhisa duo;
20,000 Volts, Koenji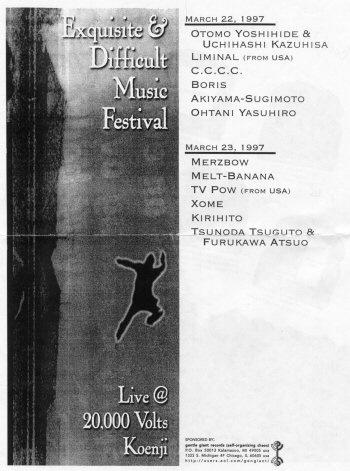 The Exquisite and Difficult Music Festival was sponsored and promoted by Gentle Giant Records, a label run by Tom, Brent and myself. We, with the help of some friends, set up the festival for musicians with stuff released on the label and artists we wanted to see\_not to mention a reason to go to Japan.

In Tokyo it's rare that musicians need to bring their own amps and drums to a show as so many of the live houses have plenty of excellent gear to use, but Boris considers it such an integral part of their sound that they go through the trouble of carrying several very big and heavy Orange amplifiers and stacks plus a set of sizable drums to every show in order to ensure that their sound is proper. Boris plays HEAVY, SLOW and LOUD. Play your Melvins 45s on 33 and TURN IT UP. I seriously don't think I've ever felt sound waves like I did while they were playing. The walls shook, the hair on my arms tingled and my sphincter felt like the core of my being. Thoroughly enjoyable.

Otani Yasuhito's music is a wonderful blend of uneffected environmental noises, electronic ambience, and digitized sound that's goal is to push the use of samplers and computers in an improvised setting. From behind a mysterious box of samplers and computers he created soothing soundscapes and I found myself suddenly misplaced.
Akiyama/Sugimoto. is an improvisational guitar duo. Both members play electric guitar, the difference being that Taku Sugimoto plays uneffected, plugging his guitar directly into the amplifier while Tetuzi Akiyama uses any and all effects, devices, metal objects and weapons on his guitar to get sounds very unlike a guitar. While Sugimoto danced anti-rhythmically around the fret board Akiyama gently pushed and pulled dark tones through the mix. It was inspiring to witness the musical wisdom of these gentlemen on this night.

In case you don't know C.C.C.C. is an acronym for Cool Cexy Cnoise Crumble or Cwe Cwillfuck Cyourshit Cup, and they did. Although they've dropped the bondage theme from their live performances, the eroticism of their art came through loud and clear.

liminal played next and we tried to be quiet.

The last act of the evening was Otomo Yoshihide on turntables and sampler improvising with Uchihashi Kasuhisa on guitar. I was super geeked to see this duo as I am a big fan of both Otomo's and Uchihashi's solo works and to gether in Ground Zero. It was obvious that there's a strong chemistry between these two musicians as they traversed a series of explosive, high-energy improvisations. Otomo's chaotic turntable styles, and uninhibited sampling, blended perfectly with Uchih ashi's disjointed and heavy spaceship guitar playing. The two musicians strive to blur the lines between genres and defy categorization. This combination and expression of varied interests and influences, both musical and otherwise, is an element prevalent in much of the music currently being created in Tokyo.

03/23/97
Exquisite and Difficult Music Festival Day 2;
Tsunoda Tsuguto and Furukawa Atsuo, Kirihito, Xome, TV Pow, Melt-Banana, Merzbow;
20,000 Volts, Koenji
Tsunoda Tsuguto and Furukawa Atsuo started the evening with a compelling duet of improvised midi-guitar and sax. Their set was an excellent mix of Furukawa's free jazz style saxophone playing and Tsunoda's modern guitar electronica.

Kirihito was second to play and as everyone migrated closer to the stage it was clear who many of them came to see. Kirihito, a two-man unit of guitar and drums, has an original and potently infectious sound. I've heard them compared to the Ruins but the only connection I see is the instrumentation. Hayakawa plays drums, standing up, without the benefit of a bass drum, and Takehisa utilizes a pitch shifter and other effects to enhance his guitar sound while playing a Casioton with his foot. Together they mold trance-inducing rhythms and catchy musical phrases into smart compositions that might make you wanna dance, or at least move around. During a conversation with a friend about the future of the Tokyo music scene, he mentioned the impending rebellion by the younger upcoming musicians against the older more established musicians. I think Kirihito might fit into the former category. It may not be a conscious rebellion but I think they're a band with a "younger" set of influences and some fresh new ideas.

Xome is the noise band that maims to entertain. I like Xome. They're clever. I've seen them several times and know that they love to experiment and explore the potentialities of a live performance situation. There is an anything-goes attitude throughout the Tokyo music scene that brings out experimentation and humor in many people, like the members of Xome. On separate occasions I've seen them show wacked video, perform an alien abduction, and simulate digestion. Tonight was humorous exploration of noise. My Japanese sucks, so I didn't get most of their jokes but their a cappella noise number cracked my shit up. Their superior set created a mad rush to the merchandise table for Xome stuff.

TV Pow was on next and in order to impress everyone we played especially mediocre.

Melt-Banana rules the world. Merzbow played last, which was good because I couldn't imagine anyone trying to play after them. It seems pointless to try to describe the overwhelming cacophony created by the trio that left the audience tired and weak after immersing them in sonic isolation. I remember not being able to do anything other than think. Afterward Brent told Masami that he made him feel bad and Masami kind of smiled.

03/29/97
Soft
at Milk, Ebisu

Milk is a somewhat new and hip late night club with a nice dance floor, a decent size stage and an excellent sound system. The club is decorated in neo-retro-post-cybermodern style complete with groovy lights and pop sculptures. A great place to spend the night dancing. Several times a month they present a couple bands that play between DJs. Tonight, it was two bands from Osaka, Soft and (I forgot the name of the other band). Soft played a skillful set of groovy love rock, that was impressive and went well with the overall flow of the evening, but not really my thing. I've never heard a bad DJ at Milk so of course we had incredible fun dancing until the club closed.

03/28/97
Copass grinders, Coup d'etat, Cement
at The Loft, Shinjuku
I was excited to see Cement. I had heard a tape of their stuff and loved every maniacal metal minute. Unfortunately, we barely arrived in time to catch but a mere glimpse of their set. I think I saw but two crushing songs. I was so bummed. I thought for sure they would've played last.

I had seen The Copass Grinders a couple times before on previous trips to Tokyo. I like this band. They rock. Guitar oriented power volume that might remind some of the Unsane. You could hardly even notice that they didn't have a bass player. I forget the name of the next band but they played butt-cheeze-metal-rock so I went outside.

Coup d'etat, not to be confused with Children Coup d'etat, is not a band with a message. On an entertainment level I'll say this, I didn't leave the room because they made me laugh. The question remains whether I was laughing with them or at them. On a musical level they played bloody-spit-drunken punk without any of the real passion or aggression that makes punk valid and fun. Occasionally they would stop smashing things and throwing water on the audience to yell naughty words into the microphone. Boy you sure are crazy.

04/12/97
Let's Go Bitch Vol 8;
Taichi, Bullet in the Head, Namazute, Sunsowl, Pink Panther, Displaced Person, Coupd'etat, TV Pow;
Crescendo, Kichijoiji
Taichi, the mastermind guitarist behind Cement started early in the evening with a spastic noise performance that was short but nice. Maybe I'm mistaken but noise seemed to be a new thing to most of the metal fans there that night. It's nice to see someone stepping forward to guide the minds of Tokyo's youth. Displaced Person played some fine metal. Coup d' etat did their little thing with the cups of water and falling down. The rest of the bands were pretty funk metalish. I'm not really into funk metal. TV Pow was down to Brent and me again. We played pretty crappy but everyone was so drunk they thought we were good.

04/17/97
Digital Audio Gruppe, Hanatarash;
Milk, Ebisu
More bands and DJs at the finest club in Ebisu. The Digital Audio Gruppe from Germany made the first appearance, working army helmets and mirrors into sound making devices that were at least as cool as the sounds they made. The helmet was used in coordination with a microphone and a backpack amplifier, both of which were sported by a crazy man running through the club attacking people with sound. The next piece featured mirrors? lights? embedded in the palms of a pair of gloves that somehow, I have no idea, manipulated sound. As the woman wearing the gloves bent and pointed the light around the room the sound weaved and changed. Very cool.

Apparently tonight was an exhibition of the latest in noise wear as Hanatarash featured Yamataka Eye donning his Nintendo_ noise gloves which he used to wage war on a wall of amplifiers. Although Eye isn't from Tokyo it would be difficult to discuss the Tokyo music scene without mentioning him or the several other Kansai area musicians that make regular appearances there. Tokyo audiences have an undying affection for and loyalty to Eye and always show up in droves to see him perform inany of his numerous projects.

04/27/97
Murder House
with Melt-Banana and TV Pow
at Milk, Ebisu

Murder House is a monthly hardcore drum and bass (a.k.a. Gabba) night at Milk organized by DJ Iijima. Keeping with the tradition at Milk, DJs Ishii, Tokyu Head, Tatsujin Bomb, and Iijima spun before, between and after the bands. It was the hardest, fastest drum and bass I've ever heard. Most of the tempos were so fast that standing on the stage everyone looked as if they were running in place rather than dancing, I have to admit I worked up quit a sweat myself. Melt-Banana was awesome. We felt warm about our TV Pow set as well.

05/03/97
John Zorn's Cobra
at La Mama, Shibuya
Tokyo is one of the only places in the world where there are running performances of John Zorn's improvising game Cobra. If you're not familiar with the game, in short, it is based on a set of musical cues and directions that are chosen by the players as the music moves along. Ideally the performers collectively write a "song" as they perform it. The Tokyo Operations are organized and prompted by Makigami Koichi who has taught countless musicians the rules of Cobra. Brent and I were lucky enough to be able to participate in this evening's games which consisted mostly of musicians playing acoustic and traditional Japanese instruments such as the shakuhachi and shou. We had incredible fun playing the game which definitely proved to be a culmination of the members varied musical backgrounds. There is no doubt that John Zorn has had an impact on the Tokyo music scene. Some might say he is responsible for helping to connect musicians from different genres which launched the border less attitude that is so prevalent in many of Tokyo's musicians today.

05/12/97
Electronic Improvisation Party
at La Mandala II; Kichijoiji
We had more fun improvising with Tsunoda Tsuguto, Tetuzi Akiyama and Taku Sugimoto.

05/14/97
Xome, TV Pow
at Bar Aoyama, Aoyama
It was open sewer night at Bar Aoyama. When we first got there we were told not to flush the toilets because they were having trouble with the drain. Well, whoever was working on the problem forgot to put the lid back on the giant shit hole in the middle of the floor. It was dark. Poor Bob from Xome had no idea that his next step would leave him standing ankle deep in a river of poo. He gracefully shook it off and Xome played a fine set of Christian Noise. The rest of us fell victim to the lack of overnight public transportation in Tokyo and were left with no other choice than to go to an izakaya (a drinking place with food) and sign up for "nomihodai" (loosely translated as pay ten bucks and drink until you die). We didn't die but we got our ten bucks worth. We'll always remember the night Bob fell in the shit hole.

05/17/97
Keiren no Yoru 3;
Spastic Colon, K2, Facial Mess, Kazumoto Endo, Incapacitants, MSBR, TV Pow, Government Alpha, Seed Mouth;
Anti-Knock, Shinjuku
We started our trip to Japan with an all night noise-fest so it seemed appropriate to end it that way. The crowd and atmosphere were similar to that first event except this time there were a few more friends and dates and less German film crews. TV Pow weren't the only guys from out of town either, we were joined by Spastic Colon from LA. and Facial Mess, a one man unit originally from England currently residing in Chiba, Japan. I could go on and painstakingly describe each bands performance, or I could just tell you that it was another happy night of Peace Love and Noise.
It is my personal conclusion that Tokyo has a music scene that is open to, yet completely independent from, the rest of the world and that there is no lack of musicians, or an audience interested in, exploring and making contributions to the art of sound manipulation, improvisation, and good olfashion rock (in it's many forms). Tokyo is a great place and you can bet I'll be back there as soon as possible.
The material was presented by Thomas Dieter (Gentle Giant Records, USA).
See also on Achtung site - http://hp.ic.ru/achtung/gentle.htm (in russian)
---
Send mail to alien@ic.ru with questions or comments about this web site.
Achtung Baby! contact: igo@donpan.rnd.su
Copyright ¿ 1997 Achtung Baby!
Last modified: á×ÇÕÓÔ 12, 1998