---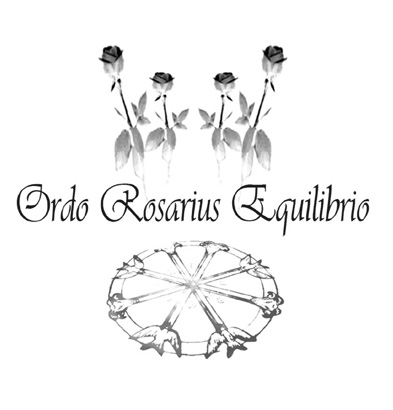 Ordo Equilibrio; The Beginning is the end; Is the Beginning....
The condition of Ordo Equilibrio has transfigured since the release of "Conquest, Love & Self Perseverance" in July 1997 - Chelsea has resigned her participation from the formation by reason of personal disparities, and separately alongside this resolution has befallen the wedlock between equilibrium & roses v Ordo Rosarius Equilibrio / The Order of Roses & Balance.
But in order to avoid the consequential upsurge of unfortunate rumors proclaiming the hence ruin of Ordo Equilibrio, it may be affirmed and fortified that OE will persist, endure & prevail consistent through the essence of Ordo Rosarius Equilibrio.
There are three impending releases scheduled for next year. First the anticipated 4th CD, second the 2 x 7" box titled "4 Love 4 Life 4 Lust & Roses" in 444 copies, and finally the long awaited video release which has and is being spawned in association with video artist Mikael Prey a.k.a. Fetish 23.
---
---
NEWS:
ORDO EQUILIBRIO's second latest accomplishment is "The Perplexity of Hybris. I glorify Myself" from CMI anniversary compilation "The Absolute Supper" (CMI.50, date of release: November 15, 1997) - name which is taken from the title of Ordo Equilibrio song "This Absolute Supper, Second Consecration" of "The Triumph of Light...".
"THIS IS SO CALLED NEW SOUND WAS NOT SOMETHING WE CHOOSE, BUT RATHER SOMETHING THAT TRANSPIRED NATURALLY AS WE HAD THE POSSIBILITY TO RECORD WITH THE USE OF MORE SUFFECIENT EQUIPMENT AT A STUDIO HERE IN THE STOCKHOLM REGION".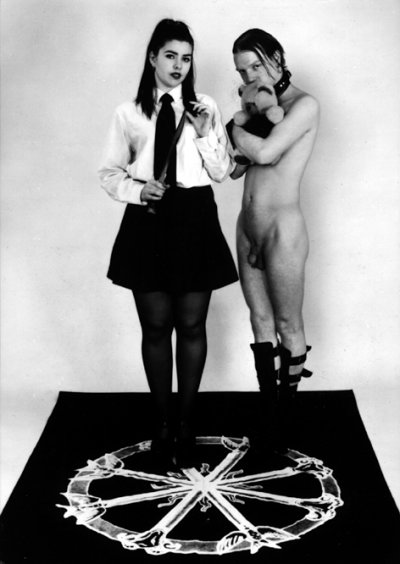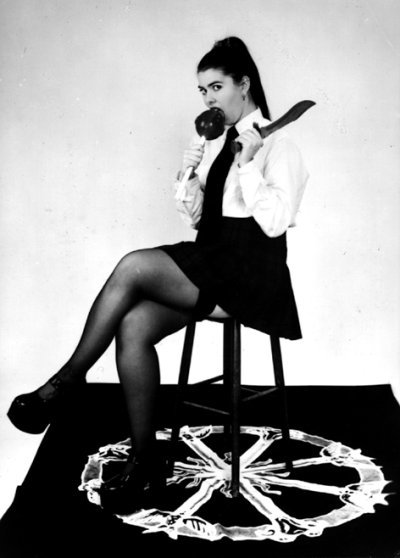 CONQUEST, LOVE & SELF PERSEVERENCE:
Their next working is finally out and is titled "CONQUEST, LOVE AND SELF PERSEVERANCE" and basically may be observed as more valid comprehension of "Peace, Love & Understanding", "WHICH WITH REGARDS TO THE CURRENT SITUATION OF TODAY HAS BECOME RATHER OBSOLETE ACCORDING TO MY OPINION". It was released on the summer solstice, June 22 1998, after ORDO EQUILIBRIO performed in Leipzig at the Wave Gothic Meeting, May 31 1998. "I ALSO BELIEVE OUR FORTHCOMING WORKING WILL BE SIMILAR IN SOUND TO THAT OF "I4I", "THE PERPLEXITY OF HYBRIS. I GLORIFY MYSELF" ALONG WITH THE SOUND OF OUR LATEST ACCOMPLISHMENT "WATCHING LUCIFER WANDER, (THROUGH THE SWEET DEW OF MORNING)" WITH MORE NOTICEABLE VOCALS AND WITH AN OVERALL LESS HOVERING SOUND. PROBABLY ALSO MORE DISTINCT IN SOUND, AND SOUNDWISE AS SOMETHING IN BETWEEN. "THE TRIUMPH OF LIGHT" AND REAPING THE FALLEN" WITH SLIGHTLY MORE SONGS OF A SEXUAL, NATURE, SOMEWHAT DARKER IN COMPLEXION, AND WITH AN EVEN MORE FOLKISH SOUND TO THAT OF "THE TRIUMPH OF LIGHT". Tomas Pettersson, Dec. 1997
---
OFFICIAL INFO: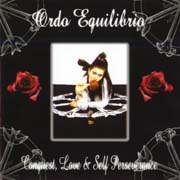 BAND: ORDO EQUILIBRIO
TITLE: Conquest, Love and Self-Perseverance
FORMAT: Compact Disc
CAT-NO: CMI.64
GENRE: Apocalyptic folk industrial
RELEASE DATE: AVAILABLE NOW!
BAR CODE: 7 330986 660640
In showbiz a successful artist's third album is often regarded as critical, as this is the time to prove that the previous acclaim was deserved and more than just a fortunate turn of fate. For Ordo Equilibrio - a Swedish group established in 1993 as a canalization of the members' emotional, philosophical, and ideological energies - this crucial moment is imminent, with the upcoming release of the third album Conquest, Love and Self-Perseverance. But backstabbers needn't bother, because Ordo Equilibrio return with their most complete release to date - an album that sees a perfect marriage of the sensibilities of the first album, and the stylistical approach of the second. We instantly recognize the atmosphere of ritualistic decadence; the crack of the whip, the ecstatic moans, and the sound of high heels. These attributes of sacrilege and fetishism blend seamlessly with the sounds of the acoustic guitars, chimes, and celestial strings - turning this album into an unequalled exposý of apocalyptic industrial folk music at its best. Highlights include the title track with its consistent drumming, and what is probably the most sublime homage ever to the act of auto-eroticism, "Let's Celebrate, the Exploration of the Human Body". This album breaks some new ground in that it uses some odd instrumentation like accordion and jew"s harp, but we're not talking a radical departure from the past. Rather it is a refined version of Ordo Equilibrio that will manifest itself at summer solstice, and this time around the two lovers in the band seem to be just as happy to explore new sonic possibilities as each other's bodies.
---
"The new album consists of thirteen songs:
1. 'Phosphorous Ascending / Anthem of Venus'
2. 'Watching Lucifer wander (Through the sweet Dew of Morning)'
3. 'Mistress of Hourglass Figure'
4. 'Cleft of stainless Rose'
5. 'In the grassy fields, where the world goes to sleep (We kissed this world goodbye) Again'
6. 'Cleansing the Tainted Face of Reason'
7. 'The Perplexity of Hybris. I Glorify Myself'
8. 'The Blind are leading the Blind are leading the Blind are leading the Blind'
9. 'Let's celebrate, the Exploration of the Human Body'
10. 'Conquest, Love & Self Perseverance. The Gospel of Aptitude'
11. 'Disrobed but in Stockings'
12. 'Ouroborus, the Serpent of neither Beginning or End'
13. 'Man Always Forgets'
All in all, eleven new songs and two previously presented. Song number 5 & 7. I personally conceive 'Conquest, Love & Self Perseverance' to be spiritually, esthetically and sexually inclined towards that of 'Reaping The Fallen, The First Harvest', but still incorporated of a coequal magnitude of acoustic songs to that of 'the Triumph of Light.... and Thy Thirteen Shadows of Love'.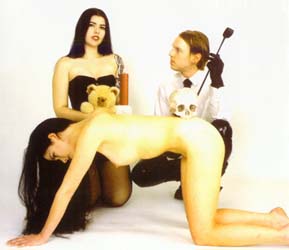 Conclusively making it our most complete working altogether". "According to what I have been told, we are supposed to perform at the 'Nights in the Abyss II' on July 24 & 25, along with Arcana, Sanctum, Hybryds, Sol Invictus, Mortiis and possibly some additional acts. And as previously mentioned we are likewise scheduled to perform at the arriving Wave Gothic meeting in Leipzig on May 31st. Along with a performance at the 'Nursery Injection' on June 28th together with Sol Invictus. Unfortunately there will be no performance in Prague as I had hoped for, but possibly at some point during autumn". "We just accomplished the photographic workings for 'Conquest, Love & Self Perseverance' last Saturday at a studio here in Stockholm, with the assistance of photographer Jonas Sjogreen who conducted the photos for 'The Triumph of Light.... and Thy Thirteen Shadows of Love'. The photos are somewhat sexual and ironic in nature, and of similar nature to the promotion photos of 'I4I' and 'The Triumph of Light....'. It's a variety of pictures of me and Chelsea, dressed as a cute schoolgirl grasping a huge hunting knife eating her lollipop. Further accompanied by a naked female on all fours serving as a table etc. etc". Fragments from personal correspondence; published with a kind permission of Thomas Pettersson; April, 1998.
---
For more info on Ordo Equilibrio go http://drugie.here.ru/achtung/ordoeng.htm
---
Send mail to achtbaby@aaanet.ru with questions or comments about this web site.
Achtung Baby! contact: mzr93@mail.ru
Copyright © 1997 Achtung Baby!
Last modified: Fevral 26, 1999