---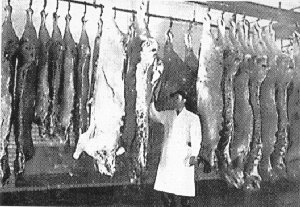 Should I say something? How about if someone else said something... after all, quite a few list subscribers were there. But I can start, I guess.
At 6 PM basically all active CMI acts except Ildfrost and the three members of Blood Axis gathered for the absolute supper. Well, Mortiis had not yet arrived, but he came later... straight from his adventures in the States. Also present were a bunch of girlfriends, and other hang-arounds like myself, Joakim the webmaster, Albin Julius of TMLHBAC, and some fanzine representatives. And oh yeah, of course the whole Karmanik clan too. All in all 50 persons.
For three hours people were eating ham and potato salad, and drinking excessive amounts of alcoholic beverages (which had serious consequences for certain individuals who shall remain unnamed). Roger had really catered for everyone's needs here. Before the doors opened at 9 there was also time for some mingling under cosy circumstances, and all the time CMI.50 was played over the sound system.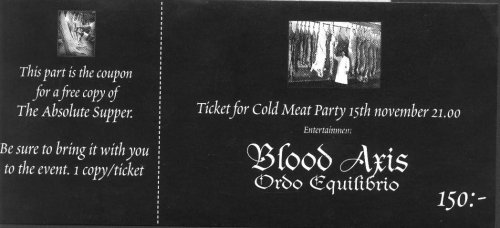 So at 9 PM around 100-120 more people invaded the club. I think this was a slight disappointment, as there was certainly room for at least 150 more. But some people had travelled far; there were fans from Germany, France, England, and even one Polish guy. At around 10:30 Ordo Equilibrio entered the stage, and as always Fredrik of No Festival Of Light added live percussions to the set. This time only a kettle drum though, instead of a whole drumset before. For this concert, O.E. had made two banners that hung from the ceiling. They were like three meters high, and it looked really impressing with them and all the candles that framed the stage. It was a pretty short set... couldn't have been much more than half an hour... but OK, my grasp of time wasn't the best at that point. Initially, the bass tones drowned everything else in the sound mix where I stood, but it improved pretty quickly. Musicwise, it was probably the best O.E. show I've seen. But half of the fun of seeing O.E. live is to witness Chelsea flogging and waxing Tomas, but this time there were no such visual extravaganza. I know Chelsea had an acheing back, so that was probably the reason this part was left out.
A bit later it was time for Blood Axis to entertain us. Mr. Moynihan on vocals, his girlfriend Annabel on violin, and a big dude on guitar and keyboards. They more than compensated O.E's short set, and played for an hour and more. First very folksy and mellow, then towards the end more bombastic when they pulled out aces like 'Reign I Forever'. They were very professional and had good stage presence, and it was hard to believe it was their first major show ever. Having said all this, I must also say that although I - like most Swedes - are practically breast fed with the Norse sagas and mythology, I still can't get into B.A.'s music... it doesn't speak to me. I respect Moynihan as an artist and writer, and he was very approachable and everything, but I dunno... something is lacking in the music. Compassion?? As expected there were a few nincompoops present that just had to exercise their right arms, but I had really anticipated even more of that element. Unfortunately B.A. did not play Joy Division's 'Walked In Line' which I know many wanted to hear.
What else...? Did chaos ensue then?? No, not at all. Although the levels of intoxication were peaking here and there at this point, it was still pretty calm, and a friendly atmosphere prevailed. After all, a lot of people knew each other from before... the "scene" ain't that big over here, even if you're sometimes lead to believe that it's rapidly growing. And no, I didn't bring a camera this time, so expect no pictures from me.
Finally, a big thanks to Roger for pulling this party off. May the next 10 years be as prosperous as the last 2-3 have been.
Morpheus rising...
Marten Sahlen
---
Send mail to alien@ic.ru with questions or comments about this web site.
Achtung Baby! contact: igo@donpan.rnd.su
Copyright ¿ 1997 Achtung Baby!
Last modified: éÀÎØ 01, 1998